In the event of a marine casualty, our company can handle all related procedures. From on site survey and cause of damage investigation to the collection of all necessary documents to be submitted to insurance surveyor.

Our long experience in the field ensures the best possible result, to the benefit of our clients.


Panamax bulk carrier while underway from Brazil to Far East, reported scavenge fire in most main engine units while approaching Cape Town. Altho Chief Engineer isolated affected units, vessel seaworthiness was compromised so managers requested tag boat to safely tow vessel to Cape Town for emergency repairs.

All units found with severe damage, piston crowns burned out, skirts and liners with cracks, etc.

Underwriters surveyor reported as cause of damage pure fuel atomisation and lack of maintenance.

Above cause of damage would result to the rejection of the claim by the underwriters.

We were appointed to investigate chain of events, find and prove actual cause of damage and invalidate the above. Our investigation resulted to crew negligence and relative supporting documents were submitted to all parties involved.

Our proposal was accepted by the underwriters and owners were compensated.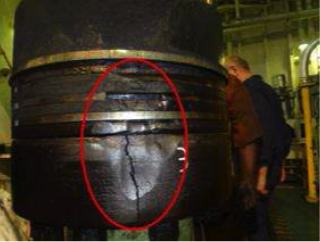 Handymax buck carrier equipped with three diesel generators experienced elevated exhaust gas temperatures at relatively low loads.

Condition deteriorated very fast, within a month generators were unable to hold vessels load. None of the generators were due for overhaul.

Inspection reviled that all liners and piston rings were damaged by blow-by and turbochargers were all damaged due to excessive heat.

Hull and machinery underwriters argued that cause of damage was due to components exuded expected service life resulting to material failure.

We were appointed by owners to overturn underwriters claim.

We proved that cause of damage was due to mishandling of fuel by the crew, i.e crew negligence.

Underwriters accepted our cause of damage and owners were compensated in full.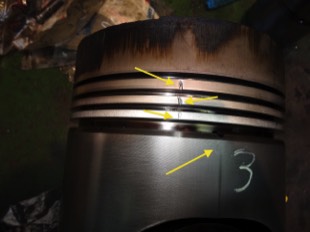 Handy max bulk carrier trading in the Baltic Sea during winter season reported reduced performance after cleared sea ice are.

Divers inspection indicated all four propeller blades were damaged due to ice contact.

Vessels side shell indentations, due to ice contact, indicated that vessels draft was outside class approved ice belt zone.

During propeller repair maker accidentally cropped blades to an extent were permanent repair by refitting new tips was not acceptable by the class.

Owners claimed against propeller maker for negligence during repair and against underwriters, P&I for damages due ice damage.

During the process, opposite parties claimed that vessel should not trade in the specific area since ice thickness was above vessels ice class notation allowance and that due to the presence of cracks propeller blades had to be cropped at a grater extend.

Above allegations were overturned, and owners were compensated by both propeller manufacturer and insurance.