UTM & Hull Close Up Surveys with Platform or Rope Access
Eliminate cost for staging or rafting with our patented inspection method
Using Platform instead of Rafting or Staging for C.A.P.

Most IACS classification societies do not accept cargo tank close up surveys during CAP with remote survey technics, i.e, with the use of rope access, if coating is not in good condition or defects are found. They require surveyor to perform close up survey.

Some oil majors do to accept the complete substitution of close up survey with remote survey technics during CAP surveys, even if classification society accepts during class renewal. Failure to comply with above requirements can result to cancelation of employment by said oil majors.

Our company invented a method to bring surveyor to the under deck structure using a specially designed platform, giving solution to above problem.

Above method has been patented by ANCO Maritime Activities Ltd to over 40 countries world wide.

ADVANTAGES
-- Above method is an alternative to staging or rafting at a fraction of the cost.
-- It is faster than staging or rafting. Close up survey can be performed during cleaning cargo tanks, prior to entering ship yard.
-- In many occasions shipyards do not have promptly available stagings to provide vessel during close up surveys, resulting to delays.
-- Above novel inspection method has been accepted by all major IACS clarification societies.
-- The service is offered world wide.
UTM survey with Remote Survey Technics & Rope Access
In the occasions where remote survey technics using rope access is acceptable by classification, we can offer UTM surveys using a team of climbers. Our team of climbers is vessel specific trained and we have developed in house technics and equipment to access any areas requested.

Our operators are experienced and they trained to deliver optimum results.

We have developed safety procedures to ensure accident free inspection. Also our company has third party liability and personal accident insurance covered for this type of operations and risks.

Finally our company can offer ultrasonic thickness measurement surveys using normal access methods, if requested.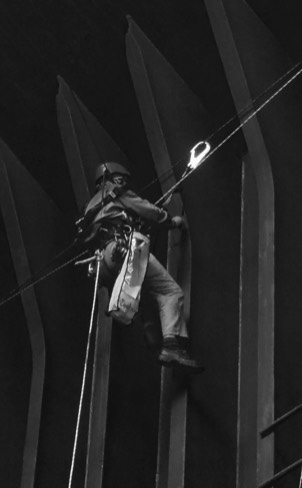 In the following
link
representative customer list can be found.
Approved service provides for hull surveys by the following classification Societies:
ABS
LR
BV
DNV-GL
RINA
NKK
KR
Επιθεώρηση εμπορικών πλοίων, Παχυμετρήσεις ελασμάτων πλοιων
Hellenic register